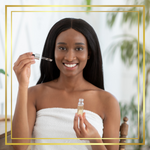 The major element to healthy skin is having a natural glow.  Things like lack of sleep, stress, age, and even down to what you eat can rob your complexion of its radiance.  But there is good news!  You can literally transform your skin from dull to RADIANT. You can achieve naturally radiant skin right in the comfort of your home.  
Four simple tips to give you that natural glow
Cleanse regularly. Wash your face morning and night. You want to massage small dollops of face cleanser lightly with fingers in circular motions.
Exfoliate your skin. Apply either a physical exfoliant, like a face scrub, two to three times per week or a chemical exfoliator, such as a face peel. Frequency will depend on skin type.
Protect it. Shield skin with broad-spectrum SPF 30+ facial sunscreen or day cream.
Moisturize skin regularly. Don't apply moisturizer just once in a while or when skin feels dry. Lack of hydration makes your complexion dull.
Follow these expert skin and makeup tips to get you back to a natural glow. Start now, no matter how much time you have: months, a week, overnight, or even instantly!