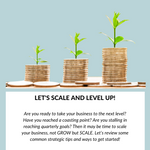 How to scale my business?
How to scale your business
Are you ready to take your business to the next level? Have you reached a coasting point? Are you stalling in reaching quarterly goals? Then it may be time to scale your business, not GROW but SCALE. Let's review some common strategic tips and ways to get started!
What is scaling strategy?
Scaling growth is about creating business models and designing your organization in a way that easily scales in order to generate consistent revenue growth and avoid stall-points without adding a ton of extra cost and/or resources along the way.
When should you scale your business?
Scale-up only when you are ready—not just because opportunity knocks." To reiterate—scale up only when you are ready. Don't create unnecessary risk in your business and its progress just because profits are up one quarter or you have a trustworthy team.
What is the difference between a company in growth mode vs scale mode?
Let's begin with the most common distinction between these two terms. In general, we think of growth in linear terms: a company adds new resources (capital, people, or technology), and its revenue increases as a result. By contrast, scaling is when revenue increases without a substantial increase in resources.
Growing a business
Generally seen as the definition of a successful company, growth refers to increasing revenue because of being in business. It can also refer to other aspects of the enterprise that are growing, like its number of employees, the amount of offices and how many clients it serves — these things are almost always linked to growth of revenue.
 The biggest problem, however, is that it takes a lot of resources to sustain constant growth. Because of this, financial growth can only be achieved while making larger losses, too.
Scaling a business
Because of the costs associated with growth, modern founders have become obsessed with the idea of scaling.
 The key difference with growth is that scale is achieved by increasing revenue without incurring significant costs. While adding customers and revenue exponentially, costs should only increase incrementally, if at all.
Focus on what you want to be, not what you are
Make sure you're ready and prepared for growth
Learn from competitors who've successfully grown
Protect your business values and brand
Build a creditable brand
Invest in training courses and coaching
Access outside expertise when required
Spend money to make money
Evaluate and plan
Take a hard look inside your business to see if you are ready for growth
Find the money to scale
Secure the current sales and convert new customers
Invest in technology and resources
Strategically outsource and pay for unknown tools