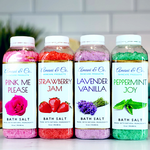 Bath Salt Collection
Amani's bath soaks enlighten and tone dull skin. Inhale the soothing sweet aroma and exhale for a deep relaxation. Made with sea salt, which is a natural detoxifier, as the salt absorbs the toxins from the skin and increases circulation. Available in over 12 scents. Check out some of our best sellers!
Strawberry Jam- An amazingly strong strawberry fragrance perfect for the ultimate fruit lover!
Peppermint Joy- Reduce stress and relax with this cool and refreshing bath salt. 
Lavender & Vanilla- with the perfect blend of fresh lavender and creamy vanilla, this soothing and relaxing fragrance creates a zen-sation 
Pink Me Please- Sweet blend of cotton candy, vanilla, and caramel.
We offer a variation of scents to choose from! Something for everyone!
Sold Out
Sold Out
Sold Out
Sold Out
Sold Out
Sold Out
Sold Out
Sold Out
Sold Out
Sold Out