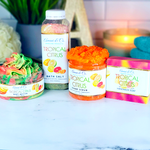 Tropical Citrus Collection
Tropical Citrus is a blend of mellow notes This unique fragrance begins with top notes of fresh bananas, juicy grapefruit, lemons, limes, middle notes of kiwi, and strawberries.
 ✌🏽Amani & Co Skincare products are made with natural ingredients such as Jojoba Oil, Vitamin E, Olive Oil, and Shea Butter. Our unique hydrating formula helps prevent itchy, dry skin and leaves skin feeling leaving your skin feeling soft and silky. 
✈️Enjoy this one-way destination to softer, healthier skin.
Available in Body Butter, Shea Butter Soap, Bath Salt, Fragrance Oil, and Body Scrub.
Treat your body with nature inspired goodness.